Categories
---
Application
---
Resource Types
---
Grades
---
Subjects
---
My Community Helper Worksheet
---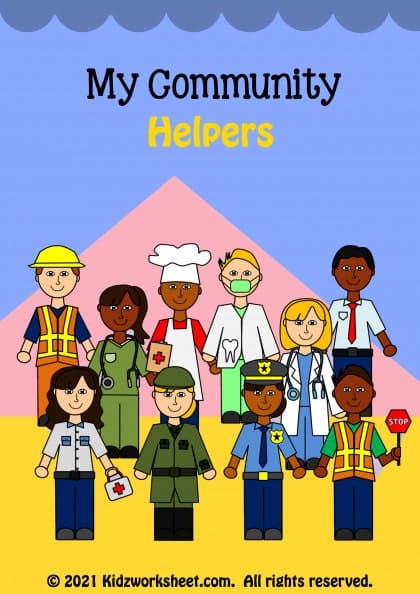 Resource Types:
Worksheets, Printables, Activities,
Grades:
PreK, K, 1st, 2nd,
Subjects:
English, Social Studies,
File Type:
PDF (16 MB|7 pages)
Product Ratting
(5)
Based on 35 reviews
Product Description
---
• Worksheet to introduce Community Helpers to toddlers and students
• Includes 25 Community Helpers.
• Colourful printable high-quality PDF.
• Best for Pre-schooling, Home schooling, Kindergarten students.
This worksheet is about community helpers who help us in our life in different situations. These community helpers are very important in our life and it is very important that our young kids and toddlers should know about them and their work. It will not only help them to know more about these helpers but a sense of responsibility and respect for these helpers will develop in the children.
We have included more than 25 of such helpers in this amazing colourful worksheet. This worksheet is having 10 pages full colored with high-quality print. You can print the sheets and then can describe them one by one to these helpers. For a better experience, parents or teachers can take kids to some of these helpers to meet personally where these helpers can tell about them, their work and can show their workplace. This live interaction will definitely be loved by your superheroes.
Please download the preview of this worksheet to know whether this worksheet fits you and your students/kids.
If you have any query or concern regarding this worksheet, feel free to contact us at kidzworksheet@gmail.com
Terms of use:
All the worksheets are for the classroom, home, or personal use only. Do not share this worksheet on any public platform without taking proper consent. Not for any commercial use.
All rights are reserved @ KidzWorksheet 2020.
Report this Resource to kidzworksheet
Reported resources will be reviewed by our team. Report this resource to let us know if this resource violates our content guidelines.
Review & Ratting